Wednesday, January 05, 2005
So what have we learnt last Christmas?
Audrey threw a Christmas eve party for the unfortunate few who couldn't or WOULDN'T go back for the season. We had lamb.
Oh boy, did we have lamb. I'm keeping away from lamb for the next three or so months.
Last Christmas night, when we were coming back from Klang (thanks to
Alvin
's dinner-cum-mafia-again-outing),
Michelle
struck a great conversation that kept us awake throughout the journey. Christmas Songs and Sex. Despair. Gratitute. Orgasms.
Okay, imagine this with me: Having sex whilst with:
1) Silent Night - Beyond cool. You want to yell, but you can't. I'll just keep it that way.
2) The Twelve Days of Christmas - 12 more ways to execute the matter. Creatively.
3) What Child is This - Uncle, thank you for your daughter.
4) Santa Claus is Coming to Town - Er, snow? White?
5) God Rest Ye Merry Gentlemen - Be Merry, Gentlemen.
6) Have Yourself A Merry Little Christmas - Ah, another beyond the ways of cool. Slow and sexy. Speed reduced to 10km/h.
7) I'll be home for Christmas - Well, I'm home. And you are too. So, let's get down to it.
8) Joy to the World - Oh, the joy we're gonna bring to the world.
Hey, don't look at me that way. I can at least share this guilt with those in the same car: Michelle,
Nicky
and Ah Keong - that lucky fella. You see, this Ah Keong guy practically sits in front of his pc '
WOW
'ing 24/7 carefreely, indulging in ceaseless FUN, FUN, FUN! I envy you! But he still has a life - at least he laughs and enjoys talking about sex. Sorry, girls, Mr.
Undetectableneo
is already taken.
Which brings me to the Rest. And Miracles.
[Sunday the 2nd.]
The Cyber Christmas final not-for-everyone's-eyes practice.
I inevitably got hungry and went for a take-away pack of Nasi Ayam Masak Pedas (Darn Kau Lat Hot Chicken Rice) for dinner. So, throughout practice some co-mates started noticing something weird from the way i was acting. But it worked well with my character. So, out of sight, out of might, we went through the play faster than I expected. Here we are, as in olden days. Which brings me to:
[Monday the 3rd.]
Pop-up video.
Mr. Pong
just had to do it: "You all should fast for one meal or something tomorrow (which is monday lahh)." Okay, sure. Why not? I don't actually eat alot if i practically skip class and sleep and indulge in seemless ceaseless FUN, FUN, FUN! on my pc. But I forgot one thing: I had a blanketable Monday 8am class which was like, you-must-attend-or-your-cgpa-is-gonna-be-screwed. Unnecessary words aside, after class, I was mighty hungry. But I kept my word (hey, we're dealing with God here, kay?). So, I got up, stood beside my bedside, took up my bible, placed it on the bed and read it while I was standing up. Okay, so today's reading is going to be - The Passover Feast.
What?
Stomach grumbling aside, I had alot more fun at night when i finally digged deep into the cuisine.
And the Christian part of the play, THE MOST IMPORTANT PART OF THE PLAY, wasn't finished as of yet. Yes, we've rehearsed the lines like a kazillion times and a kablooie times for the cues, but all we've done were the non-christian messages of the play. Which resulted me in a worryful restless night. The good thing was the Flash video depicting a colourful superhero and Jesus was running smoothly. Sorry. Owds, I just had to say it. Besides, it had a happy ending, didn't it?
[Tuesday the 4th.]
Rivers of Living Water Flow.
More cappuccino moments. I woke up around 945am for the prayer meeting for the much dreaded night extravaganza. Was supposed to arrive at 1015am for it but "screw it, I need my sleep". Datin reads this = I'm really screwed now. I was so troubled about everything I kept forgetting to get
Celine
's lunch like for twice: I forgot to order, and then forgot to collect it. Practice was draggy and more problems arose. Sometimes people misunderstand and we exaggerate matters till it becomes worse than it already is. And we don't care what people think. We don't care. We don't care.
Let Go. And let God work.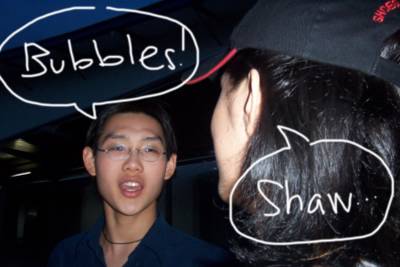 The whole
CYb3rChrIStma5
started around 735pm, i guess. I don't know. I was busy filling my stomach with NASI AYAM MASAK PEDAS again. The miracle worker. I started singing Disney cartoons and Sound of Music themes. I started humping walls. I started looking at boobs. It was all going according to plan.
One agonizing hour later, after Pastor and Mrs. Chin left, i finally entered the arena. Not knowing how the public will accept my character, I asked Desmond to pray for me. I sat wih him, joked with him, found comfort in him. I was gonna get through this. If God is for us, who can be against us?
I got off my seat and I got wild. And waited for the reaction from the people at the floor.
A laugh here, and one there. And one more there. And another burst of laughter. That's it, I got them throats working. Just like Esther said: "The first few minutes will be hard, and it determines everything. After a while, they get used to it." I prayed, and wispered a "Thankyou, God." almost everytime when I exited the stage. I don't remember, I was a nervous wreck.
The Superman scene was much of an impromptu one as it's final tweaking was only done when
Joshua
and I had a private practice just 2 hours back. But, it got me branded. For life.
But Cyber Christmas is still much work.

I want to express my gratitude here for those who put up with me during the many times of trials for the duration of the production of our play:
Audrey - Our self-proclaimed head. Fed us. Fed us. Drove us around. Drove us insane. Gave up her room for conversion purposes. I had to get myself a concussion to get her attention.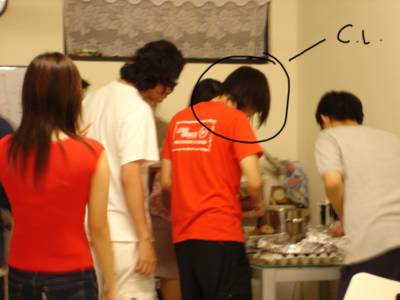 Chernliang - Buddy, you're a little bit of all. Talented. Mr. Multimedia. But work on your girl-skills. Quick, you're graduating. And yes, one of the fastest Frou Frou converters I've ever known.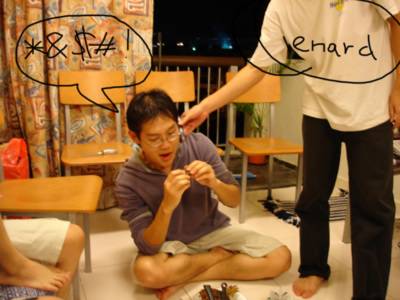 Lenard - Okay, squeeze some chilly sauce into his throat. Most people can be hard as a stone to talk to, but here's the ultimate stoner. Don't mistake him for the character he plays in the drama, in real-life, he's not a stoner. He's like... the opposite of a stoner.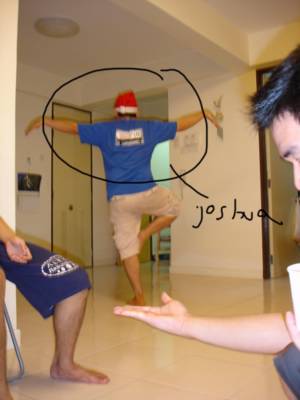 Joshua - OM Sweet Mother of Esther, he's wicked. Funny. My best friend's dad. A housemate who doesn't do chores (like I do - lah). Work on your speakers at 12am, dude. But then, like you say "Spontaneousity is fun."
Celine - You see, I don't get to interact with her character at all in the drama until this brilliant idea of getting to voice my BOSS came up. Cantonese Vulgarity works in plays. Always. Great Ipoh girl. Great Voice. Great Lips. Just that she acts very alike my sister. And I can't stand that.
Esther - I like her mom. She's nice. Go figure.
It Hath Ended. But Immortality Is Just A Friendship Away. Grab It. See you next week.
Glory To Jehovah Nissi.
That's what we've learnt last Christmas.
posted by onions at 14:56


9 Comments:
Good job in CyberChristmas, Jia Wern.

Lianne

Dee M said...

Wow,sounds great.Care to send over a vid of the whole thing?

jia wern, jia wern. what can i say about this guy. indescribable. keep up the good work!

all i can say to yo, Jia wern, is you got the same initials as me, and almost the same name as me...

God bless you, Jowen, oops, i mean Jia wern, and awesome to be our friend...:)

i DID not start that conversation!! why you..... >;)

but about CyberChristmas - you were good, as i've said even from the very beginning. you only got better with each rehearsal and you gave your best show on the nite itself.;). worry less. have more Nasi Ayam Masak Pedas - and take it all in. Good job, dear faraway cousin. Have a superr year ahead. and you shud prolly lay low on the SX thots. although, this might interest you :
http://people.cornellcollege.edu/I-McNamara/Theories/multitasking/multitasking.htm
*hahah* it certainly cracked me up. :p

tk care. and have fun. shalom.

the video: i guess mok's not working on it now.

michelle: you started it! okay, i did. sorry. i forgot. anyway, it doesn't matter now. sex rawks. you wanna get some? i can't. i'm not free.

er, audrey, if you're reading this: a friend of mine who's residing in The States says "oh ____, audrey is hot. she looks young." do feel a little bit happier please. i beg you.

jia wern! what self proclaimed!! i'm hurt!! *sob sob*
oh wellll.. proud of you nevertheless.. super duper proud! you did awesome, gave your best and never backed down~! oh.. and did i forget to mention that i'm proud of you?? *grinz*

oiks.....
ure one swell dude!!!!
You Frou Frou loving-comic reading-LOTR obsessed freak of a guy.
seriously...u DA man!